The New Forest you see today is the result of hundreds of years of animals grazing and browsing the rough heathland and woodland of an area between Southampton and Bournemouth. This in turn has produced a hardy, thrifty, surefooted pony which, when broken in, is able to perform successfully in practically all disciplines of the horse world. Because it has co-existed with humans and their trappings for so many years the New Forest Pony has an ideal temperament which makes it easy to train. The height ranges from under 122 cm (12 hh) to a maximum 148 cm (14.2 hh) and all colours (subject to scrutiny) except piebald, skewbald or blue-eyed cream are permitted. Most (but not all) of the ponies on the New Forest have long pedigrees and are registered with the New Forest Pony Breeding and Cattle Society.

THE PONIES: SOME QUESTIONS AND THEIR ANSWERS
AREN'T THEY WILD?
All the ponies are owned by New Forest Commoners. They are wild in the sense of running free - some can be handled by their owners and others have never been tamed.
HOW DO YOU FIND THEM?
Individual ponies usually stay in the same area known as the 'haunt'. This area would include water, shelter, shade and favoured grazing areas.
HOW DO YOU KNOW ONE FROM ANOTHER?
A combination of colour, markings and overall 'presence' plus of course the owner's brand, make each pony easily recognisable, particularly to the practised eye.
WHY CAN'T WE FEED THEM?
Unfortunately, your innocent throw-away apple core could eventually incite aggressive behaviour as the ponies learn to demand food, especially in car parks and camp sites. This in turn leads to the unhappy situation where the owner, through no fault of their own, has to remove and dispose of this alleged 'vicious' animal.
WHAT HAPPENS TO THEM?
Many of the ponies spend all their lives roaming freely and happily on the Forest - a natural but at times rigorous life as long as they are fortunate enough not to be killed on the roads by often inattentive or inconsiderate drivers. Others (including many weaned foals) are sold by their owners to be trained (at the appropriate age) for a variety of equine skills - from family companion to top competition winners.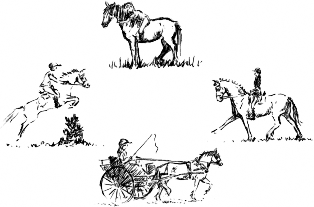 ROAD TRAFFIC ACCIDENTS INVOLVING FOREST STOCK.
To report Road Traffic Accidents involving Forest stock (ponies, cattle, pigs, sheep and donkeys) - ring the Police on 999.
SICK OR INJURED ANIMALS
If you find a sick, injured or dead pony, cow, donkey, pig or sheep (other than one involved in a RTA), call 02380 282052 during normal office hours, or 0300 067 4600 at other times. For sick or injured deer, ring the Forestry Commission on 0300 067 4600.