ROAD ACCIDENT INVOLVING FOREST STOCK
To report New Forest Road Traffic Accidents involving Forest stock (ponies, cattle, pigs, sheep and donkeys)
Police on 999 (24 hours)

---

SICK or INJURED FOREST STOCK
If you find a sick, injured or dead pony, cow, donkey, pig or sheep (other than one involved in a RTA)
Verderers Office 02380 282052 (Mon - Fri 9am - 5pm)
Forestry Commission 0300 067 4600 (24 hours)

---

SICK or INJURED DEER (Crown Lands)
If you find a sick, injured deer in the New Forest
Forestry Commission 0300 067 4600 (24 hours)

---

DEER EMERGENCY (Outside of Crown Lands)
24/7 cover for injured/trapped deer.. Working with Hants Police, RSPCA, Forestry England & the Verderers office ... We do not attend crown lands.
0800 448 0150

(24 hours)

---

REPORT A ROAD TRAFFIC INCIDENT
Hampshire Police have an online reporting tool which enables anyone to report incidents or dangerouse driving, upload photos or dashcam footage.
If you are a regular driver in the New Forest, please fit a good dash cam.
Click Here to File Report

The New Forest Agisters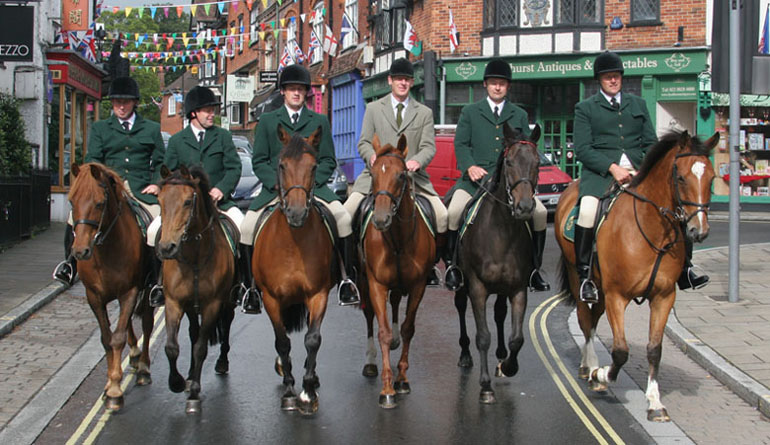 Presently five in number, the agisters are a skilled group of men with a good working knowledge of the Forest and its depastured animals. They each have an allocated area and are responsible for over-seeing all aspects of the ponies & commoners animals on the Forest. This includes dealing with sick or injured animals & road traffic accidents involving animals - the animals have right of way at all times. The agisters are employed by the Verderers.
Verderers of the New Forest
The Queens House,
Lyndhurst
SO43 7NH
Email: enquiries@verderers.org.uk Website: www.verderers.org.uk
Jonathan Gerrelli - Head Agister Tel: 07836 602163
Jonathan covers Dur Hill, Holmsley South of the disused Railway continuing through at the bottom of Brownhills then up to the triangle Burley/Brockenhurst/Sway (Marlpit Oak) roads, along that road outside Setthorns and then following the road back into Sway.
Michael Maton - Agister - Tel: 07836203883
Michael covers the area between the A35 and the A31 as far as the A337 Lyndhurst to Cadnam Road and then the Northern Commons, the boundary to the west up there being the road from Stoney Cross across to Pipers Wait.
Peter Rix - Agister - Tel: 07721 409755
Peter's area is that to the West of Andrew's patch (Stoney Cross to Pipers Wait roads) right across to the Western Commons and down South as far as the A31.
Robert Maton - Agister - Tel: 07836 500106
Robert has the south of the Forest. His area boundary is the part of the Forest north of Jonathan's patch - i.e. Longslade and Wilverley then all to the South of the A35 right upto Lyndhurst. He then has the Forest south of the B3056 Lyndhurst to Beaulieu Road and then staying south of Beaulieu River so he has Bucklers Hard and the foreshore. His area then follows the perambulation of the Forest all the way round the edge of Beaulieu Heath right back to Brockenhurst so past Roundhill Campsite etc.
Mike Lovell - Agister - Tel: 07836 757579
Mike covers the Forest to the north of the B3056 to Beaulieu and then following the north side of Beaulieu River. His area then extends across to the eastern boundary of the Forest - Blackfield, Fawley, Dibden, Marchwood etc all the way up to Ashurst and then north of the A35 up to Cadnam (east of the A337).
Reproduced with permission of Clerk to the Verderers