The New Forest Pony
Publicity Group

Part of Forest Friendly Farming

New Forest Pony Gallery
PHOTOS OF RURAL RIDERS DRESSAGE NATIONAL CHAMPIONSHIP
These brilliant six New Foresters have competed against the horses and mixed teams of horses and ponies at National Level in Lincoln to prove they are the best. With a massive score of 503 points the New Forest Pony Enthusiasts Club in the Rural Riders Dressage Competition beat the Northern DG by 27 points, with Rugby third place and Solihull fourth.
Leading the group was Longcopse Elton (Mandy Pidgley), Farriers Firelight (Martine Reeves), Farriers Foxglove (Helen Campbell), Farriers Fingerprint (Charlotte Manning), Chester II (Sally Anne Pearson) and Kilncopse Fly by Night (Dawn Vear). Sarah Green was Chef d'Equipe. It is interesting to note that this team consisted of two stallions, one mare and three geldings riding together in harmony.
Wayland Loganberry is enjoying his eventing competitions. Ridden by Caroline Saker in an affiliated British Eventing Intro on 16th August 2006 at Sapey, near Worcestershire he won his section with a good dressage test and show jumping, followed by a fantastic cross country round - and he was believed to have been the only pony there! He is pictured above show jumping at Moreton.
NF PONY WINS NFU COUNTRY LIFE CUP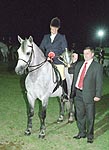 The Country Life Cup was awarded to the champion in the NFU Open M&M Ridden at the National Pony Society Summer Championships held in Malvern 3rd - 4th August. The grey stallion Farriers Finger Print affectionately known as Buster, took the prize. The cup was first presented in 1936 and has not been won by a New Forest pony for 17 years. The previous three winning New Forest Ponies are Brookside Judy, Priory Pink Petticoats and Broadlands Arithmetic.
Brock Bewitched with owner Charlotte Holloway, Supreme Champion of the New Forest Pony Breeding and Cattle Society show in 2003 and 2005. This forest bred pony by Trudy Nineham and James Young was given to Charlotte as a 18th birthday present. Charlotte has worked for Trudy and James since the age of 10.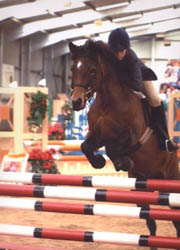 Beacon Pieris (14.1 hh), ridden by Jamie Noble-Lewis, bred and owned by Dionis Macnair. This remarkable jumping partnership first got together in 2004 when Jamie was 13. They qualified in Feb 2005 and 2006 for the Pony Club Winter Dengie Show Jumping Championships and received the Style and Performance Award. At the NF Pony Breeding & Cattle Society Grading Day achieved Grade 4 jumping a 3'6" course gaining 96%. Crowds were thrilled to watch this pair at Ellingham Show competing against horses over 16 hh, to win the high jump of 5' with a 4'9" spread. More recently they have qualified for the National Individual RC Hunter Trials to be held at Peterborough on 14 May 2006.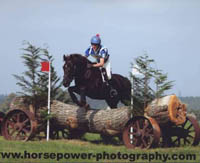 Buckland Falcon competing against the horses in BE at Moreton Horse Trials September 2005 coming first at Intro Level. With a dressage score of 29, rider/owner Kit Thorne said "he was a little star and to be precise, he is 147.7 cm!" They qualified for the National Senior RC Hunter Trials to be held at Peterborough 2006 and came first here with the NF Pony Enthusiasts RC team.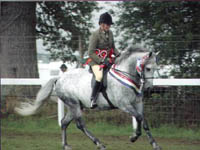 Farriers Finger Print, stallion, owned, bred by Mr & Mrs S Young, ridden by Mrs Shirley Young. Once again on a winning streak! At the New Forest Pony Enthusiasts Show, 30 April 2006, he won the NF In Hand Championship, the NF Ridden Championship, the NF Owner Breeder Championship thus becoming undisputedly the Supreme New Forest Champion and Ridden Champion over all.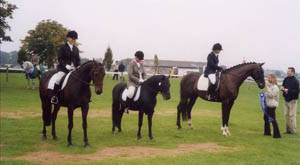 Elton at just under 13 hh is a marvellous advocate for the smaller New Forest pony. Here at the RC National Dressage Championship in Lincoln 2005 he was 2nd Individual and 2nd with the NF Pony Enthusiasts team. The sponsors were a little concerned if he had won because the championship sash and rug would have been much too big! Elton is now including jumping classes in his repertoire and thoroughly enjoying it.