The NFED is a small family business run by Steve, Claire and daughter Sally Kitcher under the trading name of CK Art - NFED. Claire is an established artist specialising in equine - animal art and New Forest scenes. In between running the NFED and looking after and riding our horses, we also produce and supply fine art prints, picture frames and create and run websites for others including the New Forest Livestock Society.
Claire on Briar, New Forest Boxing day point to point and playing at Rockbourne.

Pedigree
We breed New Forest ponies under the "Brushwood" prefix and are small commoners with just a few ponies running on the forest under the "CMK" brand, normally in the Burley/Wilverley/Brockenhurst area. We have our own land at Wootton where we keep our horses and have several youngstock scattered around the area in fields that we have rented, begged or borrowed in the best commoning tradition!
Steve on his horse Star (Copsem Cambridge Starburst).

Pedigree

Sire TB x Welsh Section D. Dam Anglo Arab

The Weirs Drift 2012.
Photo copyright Sally Fear
The NFED is run from our home in the village of Sway in the New Forest. As nearly all communication is carried out online and we work from home, there is no need to keep to office hours and we can be contacted 365 days a year at any reasonable time of the day.
Sally riding homebred New Forest Brushwood BamBam.

Sally joined the team part time in March 2012 while training as an accountant. Apart from the day to day running, Sally is also responsible for the Business Advertiser accounts from her home in Southbourne (the Bournemouth office!).
Everything from the website design, to photography and graphics is carried out in house between the three of us. This gives a unique personal service, helps to keeps running cost to a minimum and makes the NFED very efficient to run with updates made regularly throughout the day. Very few sites if any can match this, one of the reasons why over the years the NFED has become so successful. The cost savings are passed on to the users, giving great value for money to advertisers. Since its launch in 1999 the site has received several awards and was a runner up in the prestigious Hampshire Web Awards 2007 in the interactive category.
The NFED is intended to cover all aspects of horses and riding in the central southern area, we are very keen to promote and help the New Forest and support commoning where ever possible.
We hope you enjoy using the NFED and always welcome your comments and suggestions.
If you appreciate the NFED, the most important thing to do is tell others about it.
Steve, Claire & Sally Kitcher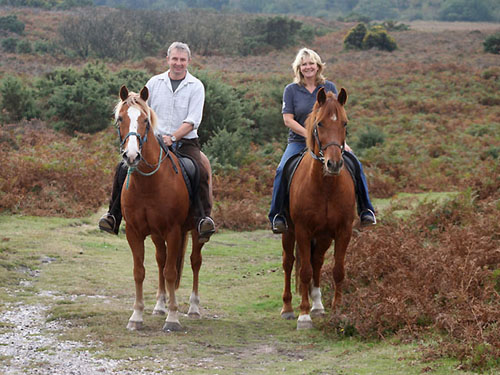 Claire and Steve on their old horses, Mitch and Briar.
Hats were only removed for the photo!
To see Claire's paintings visit her site at www.ckart.co.uk.
For anyone interested in the technical side!
We have our own dedicated server hosted in London by UK2
Shopping Cart hosted in Lancashire by ekmPowershop
Mailing List hosted in Lancashire by ekmResponse
Switchboard by www.switchboardfree.co.uk

The site can be reached using the following domain names.
nfed.co.uk
newforestpony.co.uk
southernhorse.co.uk
newforestequinedirectory.co.uk
nfedclassifieds.co.uk (Frameless version of the Classifieds, ideal for mobiles)
ckshop.co.uk (Shopping Cart)

Social Networking Integration
www.facebook.com/nfed.uk
www.twitter.com/nfedlatest

Payments & Security
Card payments processed by Sagepay
We also accept Paypal
Quarterly PCIDSS compliance audits by Security Metrics

The NFED is created and maintained using the following software:
HTML Editor: Dreamweaver.
Graphics: Photoshop. Fireworks.
File Transfer: Cute FTP.
General Documents: MS Word, Excel, Acrobat Distiller.

Classifieds Software provided by Hagen Software Inc
Event Calendar provided by WebCalendar
Message Boards provided by phpBB3
Java Scripts provided by the Java Script Source
CGI Scripts provided by the CGI Resource
DHTML provided by Dynamic Drive


Computer: Built and maintained by Steve.